T-Doll power-up augments a T-Doll's capabilities with duplicate T-Dolls.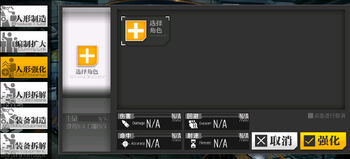 Select a T-Doll to augment, then tap on the slots on the right to select at least four duplicate T-Dolls to use for the augment.
Confirm choice and tap the Augment button to complete the power-up.
Generally four duplicate T-Dolls of any type are needed for any power-up effect.
A warning will appear if the number of T-Dolls selected is too few to have power-up effect.
Duplicate T-Dolls are consumed upon augment.
To remove a T-Doll from the augment queue, tap on her icon.
T-Dolls of any type can be used for power-up.
The status panel on the bottom shows how much a particular stat will be increased, and the maximum limit it can reach.
Powerup Effect Chart
Edit
WIP
Ad blocker interference detected!
Wikia is a free-to-use site that makes money from advertising. We have a modified experience for viewers using ad blockers

Wikia is not accessible if you've made further modifications. Remove the custom ad blocker rule(s) and the page will load as expected.